Winning the bidding war in a Seller's Market
It can be like living in the wild west when you are trying to buy a home in a seller's market. But many people do not actually know what that means.

The way we measure the market in real estate is inventory (homes for sale) vs sales (buyers actually buying a home). If there are 10 homes purchased in a given area in 1 month and there are 30 homes for sale in that same area, that would mean we have a 3 month supply of homes in that area. 10 sales per month for 3 months. In the real estate industry we would call that a 3, which is a seller's market. Anywhere between a 5 – 7 is considered a neutral market, meaning we have a 5 – 7 month supply of homes for sale based on the amount of buyers buying in a month.
In Billerica, MA we have had a crazy market lately with a very large demand and a very low supply. On average we have been a 1.3… this is a very competitive seller's market. Many homes are selling above the value of the home because buyers are becoming desperate to get their offer accepted. I have seen many situations where my buyers are competing against 20 or more other offers.
So, in a Market this competitive, how do you get your offer on the top?
Try to look at your offer from the seller's perspective. What would they want? So many buyers will always try to get "a deal" they will offer $30,000 below the ask price, even in this crazy market. If it were a buyer's market or the home was simply over priced, that might be possible but usually the price is very close to what it will sell for. In a competitive market, this may kill your offer before you begin. Almost always, a seller thinks their home is worth more than it is. A buyer thinks the home is worth less than it is.
Terms! There is more to an offer than just the price. Terms are also very important. When a seller accepts an offer that is filled with contingencies, that seller is risking the possibility of the offer falling apart, this would mean that after removing their home from the market for possibly several weeks, their home will have to go back on the market, now tainted with every buyer wondering what was wrong with the house?, why did it go back on the market? Sometimes a seller will accept a slightly lower offer that has better terms. Maybe a quicker closing, a larger down payment, waiving the inspection, or in this market when many homes are selling for more than their value, waiving the appraisal contingency.
Tap into emotions. Both selling and buying is a very personal and emotional part of someone's life. Often, this house you are buying was the seller's home for many years and they have a lot of special memories in that home. If you are impressed by the way they have cared for the home or special touches they have added, take the time to write a nice letter to the seller saying so. Tap in to their emotions. A person selling the home they have loved for many years might be happier handing over the keys to someone they think will love and appreciate their home just as much as they do.
Here are some housing stats in Billerica, MA as of today (October 12, 2016)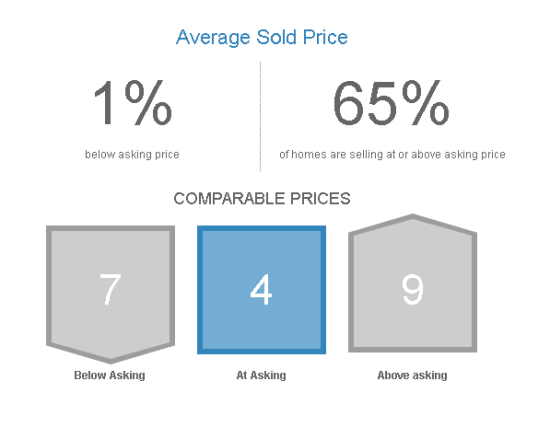 Call, text or email me today to set up a meeting to create your home buying strategy! I look forward to hearing from you!
Anna Shelbaer, Realtor
978-590-6611
anna@annasre.com